2
---
10 Things We Love About Erap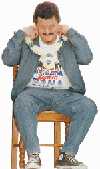 by Karen J. Adriano

Hey, before you guys jump into conclusions... this article is written by an ANTI-ERAP (and proud of it!). Itís just that, I think, there are things caused by the former President that the Filipino people, particularly the students, should be thankful for. And here are some of them...

THANK YOU ERAP...
Thank you for the days classes were suspended. Yehey!

The march from UP to Mendiola...it sure was a great way to burn those extra calories.

For the daily coverage of the impeachment trial... we were tried of seeing Rosemarie, Rosenda, and Rosario anyway.

For the hilarious text messages about Erap and the eleven "hudas" senators.

Youíve refreshed our minds with the court jargon...overruled, sustained!

Allowing swearing and saying bad words "legal" even for just a few days.

For helping us prove to the oldies that the youth of today are not as apathetic as they think we are.

For informing us the politicians to vote for and not to vote for in the next elections...Goodbye Oreta! Goodbye Santiago!

For making us more politically aware and vigilant.

For reviving the spirit of democracy and nationalism within us all!!!
---